I'm a retired guy with a bag of pencils (and now some pens!); and there seems to always be plenty of things to sketch about and continue to work on my craft.  I try to capture life's absurdities and am a staunch defender of the 1st Amendment.  It's also good therapy!  If you're a publisher or other interested party and want to use a cartoon, please email me at dennis at dennistownsend dot org – or at least credit authorship.  Of course, your ideas and comments are always welcome.  (PS:  email me, as my comment section has been turned off due to them being flooded with Russian (.ru) email gibberish. (5/8/18).  I have older cartoons archived at this page, too:  http://dennistownsend.org/editorial-and-political-cartoons-archive/
I'm delighted to have joined the Association of American Political Cartoonists as an associate member.  There is a plethora of funny editorial cartoons (that are refreshed daily)  at  their website at www.editorialcartoonists.com.
Thank you for visiting!  Click on the drawing to enlarge if needed, if your browser doesn't respond, hit CTRL and + to enlarge your screen (CTRL and – to make smaller again.
(12/3/18):  So the Pentagon has elected to conduct audits of military spending, but found the abyss so deep they're not sure they could ever find the money.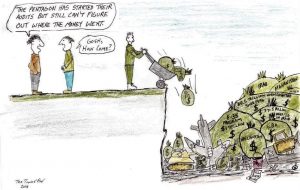 (12/1/18):  Ever caught yourself heading into a curve a little hot?  Remember to: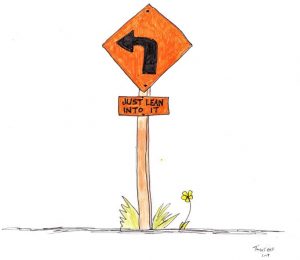 (12/5/18):  Winter's coming.  Remember, even though we all can probably get moving in the snow, when it comes to stopping and sliding, we're all equals.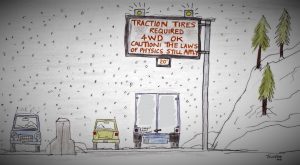 (12/6/18):  In many states (including my home) the hurdle for passing school bonds is 60%.  The issue dates back to World War II when property taxes were really high to help pay for the war effort.  It's time to put it in line with everything else.  Ironically, it puts decision makers (school boards) and constituents working closer together.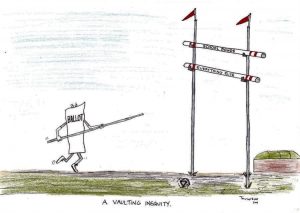 (11/18/18):  So 45 goes to California with a litany of insults, attacks, and assortment of insipid statements (raking leaves, indeed).  Perhaps he should have listened to the locals and stayed home.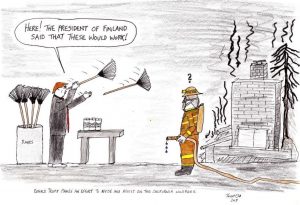 (11/17/18):  An open question on our obesity and health issues.  (Yes, there's some irony here, I visited Dick's Drive In yesterday – but it's a rare occurrence for me, and I was in the neighborhood).  😀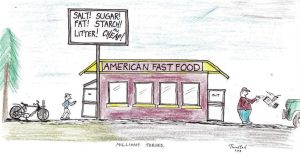 (11/16/18):  Wish I could win the Lotto, maybe I could purchase one from the Trump / GOP enterprise.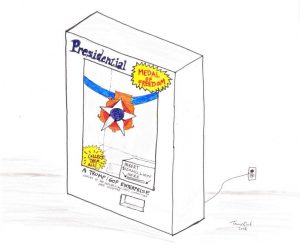 (10/21/18):  Get the paint out.  Colors may be changing.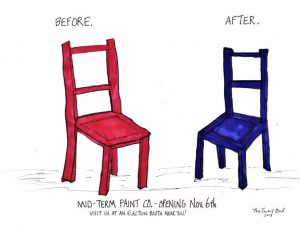 (10/20/18):  Outrage over Washington Post contributor Jamal Khashoggi's murder by Saudi agents hits home with journalists and should with others; too bad our so-called commander in chief struggles with his own moral caliber over it.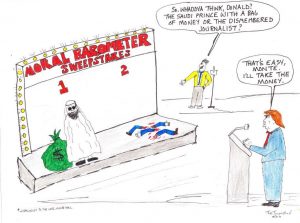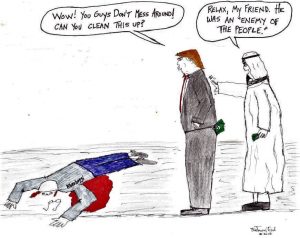 (9/24/18):  Rod Rosenstein's alleged comments spurred me to revive this cartoon; perhaps he could have been the one who ordered this.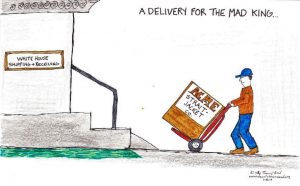 (9/18/18):  With virtually unchecked development over the past 40 years, Pierce County now wonders what we should do about our road system.  Maybe if they asked in 1977.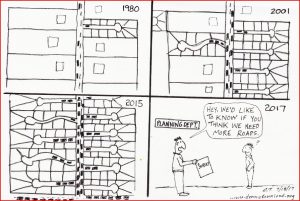 (9/12/18):  I can recycle this cartoon with every iteration and amendment of the I-5 construction through Tacoma; the result is the same – confusion.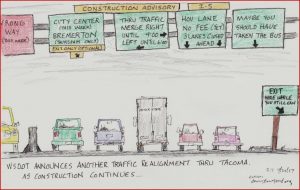 (7/11/18):  So Trump, at the urging of Rep. Greg Walden and other campaign contributors, pardons the Hammonds.  Next time he wants to remind us of the 'rule of law', remind him he just pardoned arsonists.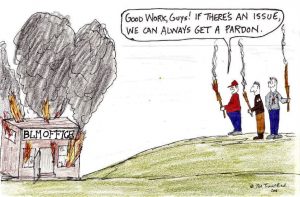 (7/11/18):  Somehow, incarcerating children was purported to be "biblical."  Won't find me in their church anytime soon.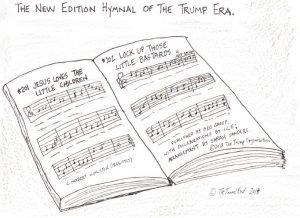 (7/11/18):  After a month-long vacation, I've dusted off the pencils and pens again.  I found that driving and drawing don't mix…  Inspired by a sign I saw on a mid-western freeway at 80 mph, so I don't know if it was spelled correctly or not – but it sure gave some ideas!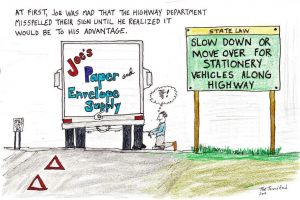 (6/8/2018):  Outtakes from the Trump University Curriculum.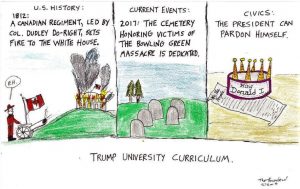 (5/25/18):  Nothing can be louder than the sound of a dog-whistle word slamming a mind shut.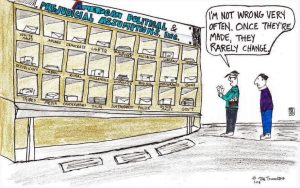 (5/25/18):  Don't just read/watch one thing to validate your prejudices, read a lot.  You may say others are biased, but you won't know if you don't expand your horizons.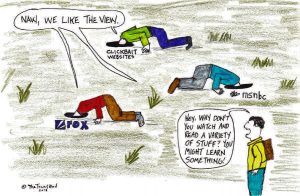 (5/25/18):  The NFL bows to Trump, and in the interest of celebrating freedom, will stifle dissent.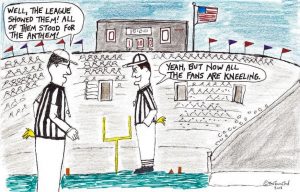 (5/17/18):  It's baffling to me to hear of polls and news reports of evangelical Christians flocking to a lying, unethical womanizer and charlatan as their hope and leader.  Frankly, in many eyes it makes the church a caricature of Trump.