I've been sketching a few years now; it's good therapy and exercise of free speech.  Don't let anyone take that right from you.   If you want to use one, email me.   I recommend visiting the AAEC website for cartoons and free press info:  www.editorialcartoonists.com
Archived cartoons (prior to June 2020) can be found here:   http://dennistownsend.org/editorial-and-political-cartoons-archive/
After a well-deserved summer hiatus, I'm back at the pencils.  Happy to announce I placed in the "citizen's choice" (5th) at the Homer Davenport Cartoon Festival in Silverton, Oregon this year (last year my "Antifa" cartoon placed first!)
(9/9/2020):   A bit dated, but the Seattle City Council, via a confused Zoom meeting, made some draconian cuts to their budget.  Mayor Durkan, in a fit of sanity, vetoed it; now perhaps cooler heads will prevail.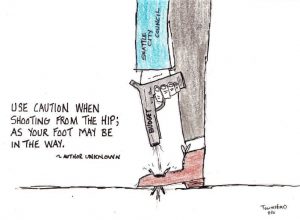 (9/7/2020):  Perhaps the least-qualified gubernatorial candidate the GOP have put forth in years; Culp's platform seems to be spreading of disease.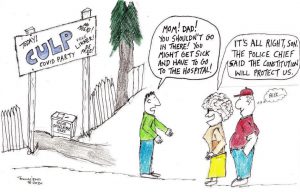 (9/7/2020):  Our local County Executive election had been pretty sedate until a staffer with the incumbent was fired for filing a whistleblower complaint; she has since turned their allegiance to the challenger.  Answer: throw mud at the challenger.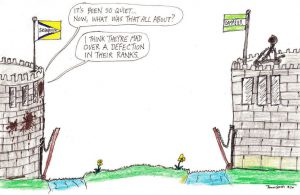 (9/7/2020):  The leader of the GOP in our State Legislature complains about "one-party" control in Olympia.  Well, between you and me, they may want to broaden their base to appeal to a "less-fringey" constituency.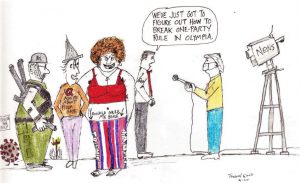 (8/29/2020):  The Puyallup River is a major fish habitat that runs through Pierce County and Tacoma, and has particular significance to the Puyallup Tribe.  Someone was asleep at the switch in permitting and a bad decision was made to use Astroturf to line the riverbed for work at the Electron Dam upstream.  As a result, thousands of rubber pellets, that contain toxic chemicals, have washed down the Puyallup.  This is a cautionary tale (a microcosm, perhaps) of the dangers Bristol Bay faces with the Pebble Mine, should it ever be approved.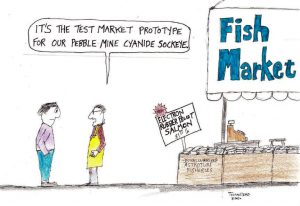 (6/21/2020):  So the Trump campaign is using Nazi symbolism in it's online advertising, either by ignorance or design.  I think it's the latter, the neo-fascists in control of our government tried to backtrack and call them "emojis," but they know what they're doing and who they're appealing.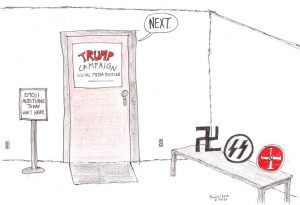 (6/13/2020):  Jesse thought he'd drive into town to see if he'd either overdosed on Fox News, or the cause had been lost.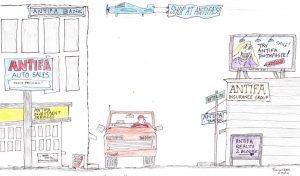 (6/13/2020):  The Coronavirus is speculated to make a comeback this fall, loosening up quarantines and "re-opening the economy" will be the cause if we're not careful.  Wash your hands.  Wear a mask.  Stay apart – together.  Or we'll be pulling another metaphorical truck out of the ditch.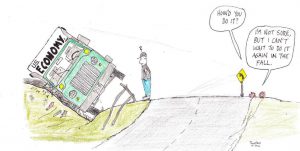 (6/12/2020):  Fox News is dubious in content and bias, but the Seattle Times called them out on using manipulated images during the Capitol Hill "Autonomous Zone" protests this week.  At least someone's got journalistic integrity, and it ain't Fox.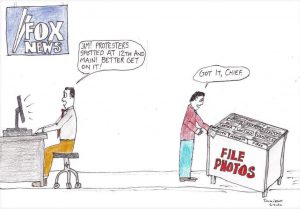 For my cartoon archive (June 2020 and earlier), click here: