Reader's note:  I try to read a book a week and leave my impressions of it here.  This website is a personal blog, volunteered and non-monetized, and accepts no advertising or donations.  Please –  support your local public library or independent book store.  (Images of the book cover are copyrighted by the publisher and are only used here for identification.)

For an archive of Weekend Book Reports (2018 and back), follow this link:  http://dennistownsend.org/weekend-book-report-archives/
Weekend Book Report (7/14/19):  Another book I read over the weekend was difficult and uncomfortable, but compelling and necessary.   "Grace Will Lead Us Home – The Charleston Church Massacre and the Hard, Inspiring Journey to Forgiveness" by Charleston (SC) Post and Courier writer Jennifer Berry Hawes (St. Martins Press, 2019) is a telling, intimate account of the tragic shooting deaths of nine church attendees at the Emanuel AME Church there.   Hawes, a longtime religion reporter for the paper, frames the tragedy with both detail and compassion, as well as a reporter's unflinching eye and many personal interviews.  She takes the reader into the close-knit family of the historic black church, the sterile lack of emotion of the perpetrator, Dylann Roof, and the amazing story of how survivors and family reacted – along with grief, angst and shock, but with forgiveness.  Roof may have wanted to start a race war with his act, but instead, Charleston looked at itself in a mirror – and had to.  She follows the actions of elected officials, (Gov. Nikki Haley and President Obama, who addressed the memorial service, among others), as well as the loss of a State Senator who died in the shooting, Clementa Pinckney.   The healing didn't go without conflict, successors to the leadership of Emanuel are called into question over their acts in handling money and providing adequate ministerial services to the grieving congregation (some even left the church to join the predominantly-white Presbyterian church next door).   The trial, covered in detail, was manipulated by Roof, who was adamant that his attorneys not portray him as mentally unstable, and, heinous crime notwithstanding, whether the death penalty was the answer.  The pain the author (who had already been awarded a Pulitzer for other works) describes is palpable and difficult to read, but the book is a valuable and historical insight to one of America's (unfortunately many) mass shootings.
It's available at your local public library or independent book store.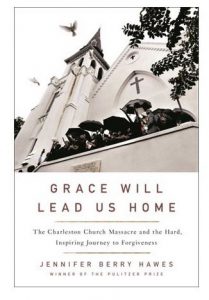 Weekend Book Report (7/12/19):   Writing may seem to be a lost art in the age of social and digital media and news aggregation sites, but the former editor of the Op-Ed (Opinion and Editorial) page of the New York Times brings it back into focus.  Trish Hall's "Writing To Persuade" (Liveright Publishing, 2019) brings a narrative of her personal experiences, as well as practical ways to enjoy and practice writing – but better yet, get readers to understand (if not agree) with your views.  Hall uses fifteen points to consider working the writing craft;  those  who have read Elements of Style or taken public speaking courses may find this familiar territory, but she expands considerably the tactics employed of and genesis of creative ideas.  Most are applicable to human relationships; understanding your audience, seeing elements of another person's point of view without conceding to them, and overall respect are highlights, along with the sins of being too wordy and the use of jargon.   After two decades in the role at the Times, Hall also discusses how to approach editors when trying to get published – whether a letter to the editor, a book, or a substantial opinion piece.  Although the book may seem to be a "how to" for writers, it's also an entertaining read on it's own right – and shows that this veteran journalist / editor is pretty good at practicing her own craft.
It's available at your local public library or independent book store.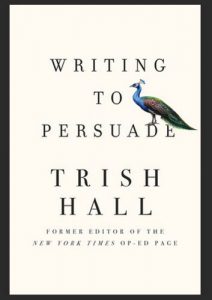 Weekend Book Report (6/29/19):  The administration of justice and a satisfying overall treatise on why it is important in our society was my read this week with Preet Bahara's "Doing Justice" (Alfred Knopf Publishing, 2019).  Bahara, as the U.S. Attorney for the Southern District of New York, was a high-profile, crusading prosecutor who led and worked on such cases as the Bernie Madoff scandal, public corruption scandals involving New York legislators, prosecuting organized crime figures as well as bankers engaging in insider trading and other crimes, shares his observations of the legal system, all in the theme of understanding and respecting the rule of law.  The author/prosecutor was born in India and came to the U.S. with his parents in 1970, eventually studying at Harvard and getting his law degree at Columbia University.  His book is divided into four parts:  inquiry, accusation, judgement and punishment, and each provide a thoughtful, insightful set of stories and insightful observations on the various aspects on how the justice system works and his office's involvement.  Whimsy is included; some of the conversations Bharara had during trials and interviews are hysterical when re-told.  Danger also lurks, many of the trials of mobsters and political figures were fraught with threats and brinksmanship (such as President Erdogan of Turkey going right to President Obama and VP Biden, urging them to fire him for prosecuting a friend in the U.S. who had eluded jail time in Turkey, thanks to the Erdogan's corruption.  The personal attacks, both my media and the defense, are all part of the realm.   It's an easy read, and the author speaks of the integrity, diligence, and hard work of those in the legal profession, as well as those with the warts.  Bharara was fired by Attorney General Jeff Sessions at the behest of Donald Trump when he refused to resign his seat; although he never mentions it in the book, that backstory is a glaring contrast of those who have a respect and advocacy for the rule of law, and those who do not.
It's available at your local public library or independent book store.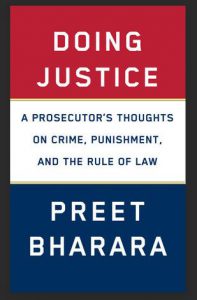 Weekend Book Report (6/16/19):  The book has been in such demand that it took nine days to arrive after ordering it from Half Price Books;  and it's just about impossible to get at the library!  The "Mueller Report" (Official title: "Report on the Investigation into Russian Interference in the 2016 Presidential Election) (Melville House, 2019) is a plain old paperback with historical significance.  It's about two inches thick, but don't let that intimidate you; the 330 pages, glossary and three appendices are small and printed in similar fashion as a legal document, with the bottom of the pages filled with footnotes, which can be perused at leisure.  The redactions (some pages are totally blacked out) reduce the volume of reading as well.  It's cheap ($11.00), so there's no reason not to get it – and keep it as a historical document.  (Note: my copy is just the report without background comment, The Washington Post and others have copies with an orientation and commentary.  I would recommend this one, or at least read the report first then read the commentary.)  The report is presented in two parts – the first being the chronological, detailed reciting of the individuals, acts and situations, and the second part is a methodical presentation of the charges of laws violated (or not) and by who.   Robert Mueller and his staff may not be into writing best sellers, but this work is excellent for a genuine citizen who takes interest in understanding the law and it's process, and I am proud, as an American, to see such quality work go into an incredibly important issue.   It's not too wonky or fraught with legalese, and really quite readable.  A glossary, including acronyms, is provided for clarity.   As with the press coverage of the report (which is largely accurate, save some right-wing spin), Mueller leaves the facts laid bare for the reader (and presumably, Congress and the electorate, and he has strongly suggested that they read it), but leaves the prosecution of the executive branch aspects to the realm of the legislative branch ("this report does not conclude that the President committed a crime, but it does not exonerate him.")  Whether Congress does anything with it remains to be seen, but – I'm echoing Robert Mueller here – this book should be read by everyone, as it represents a distinct, disturbing and critical turning point in our nation's history, one that truly exceeds the magnitude of the cause of a previous special counsel's report – about a whether a President lied about having a sex act.
It's available (no, you'll probably have to order it) from your local independent book store or (get on a waiting list) at your local library.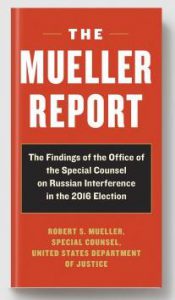 Weekend Book Report (6/8/19):  A nice change of pace in reading this week was found in a loaned book from a friend that covered both nature, adventure and human interaction in a unique setting.  "Kabloona" (Time-Life, 1941) by Gontran de Poncins was an offer from the Book-Of-The-Month Club and is a considered a classic in travel literature.  Poncins, who was born into French aristocracy,  was bored with the business end of being in high society and started to travel.  His fascination with the Arctic North brought him to Canada, and on his own dime and wherewithal in the winters of 1938 and 1939 he spent 18 months living with the Eskimo (now known as Inuit).  The Frenchman ("Kabloona" is Inuit for "white man") was not a scientist, but he wrote of his travels and observations – living in igloos, eating frozen seal meat, getting everywhere by dog sled and enduring bitter cold and 24-hour darkness – all in a diary form.  Upon return, he turned them over his collaborator, Lewis Galantiere, who translated the works from French to English and assembled the notes into a readable and chronological narrative.  The work is fascinating; Poncins develops relationships with Inuit families, learns some of the quirks of their culture and customs (sometimes the hard way) and describes the bleak beauty of the windswept frozen landscape.  The only contact with the outside world is by a radio at a post at Gjoa Haven (now in what is known as Nunavut and at the time have twelve residents), where a broadcast was received for ten minutes on Sundays – that's it.  As a result, the darkening of war clouds around the world were unknown to most – and like today, a read of this book may take you away from troubling contemporary issues, and learn about a fascinating culture as well.
It's available at your local public library or independent book store.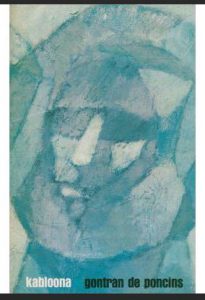 Weekend Book Report (5/30/19):    The deployment of persuasion, disinformation and outright lies efforts to persuade the masses has gone on for centuries; the advent of social media and electronic dissemination has expanded it, and understanding it better was the motive behind my purchase "How Propaganda Works" by Jason Stanley (Princeton University Press, 2015).   The author, who is a Professor of Philosophy at Yale University, crafted a read is that is steeped in the disciplines of political philosophy, and reads like, well, a college professor delivering the content.  Some may be disappointed; there's no pictures (don't look for memes here), bells, whistles or a flood of examples and the read can be difficult for those impatient, as it's filled with the drill-down granularity of a professor making his point.  Stanley's work is grounded in the fact that liberal democracy, in allowing freedom of speech, can have it's own survival jeopardized by it.  His chapters – defining propaganda, it's role in democracy, the practice of ideology, examining political ideology and the ideology of the "elites" (who get to define the "rules of the game")  – will give the reader, when reflecting on the content, a good overview on how propaganda actually works, as well as understanding the maddening case when seeing one faced with solid, factual refutations to their belief system and still continue adhering to it.  Embedded along the way and in his conclusion, Stanley helps the reader address the self-realization on how it has affected their own belief system, which is one of the elements in preserving Western liberal democracy.  A tough read, and along with other commentaries on propaganda, a worthy one.
It's available at your local independent book store or public library.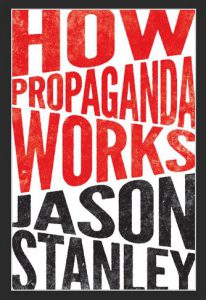 Weekend Book Report (5/20/19):   In taking a break from heavy philsophical and political items, I took an interesting journey into the ever-popular world of birding.  My wife and I are both birders, so after listening to the "Bird Man" Noah Strycker at a recent Bird Fest on the Washington Coast, it was high time to read his most popular book, "Birding Without Borders" (Houghton Mifflin, 2017).  Strycker grew up in Creswell, Oregon (near Eugene) and is associate editor of Birding magazine and an Oregon State University grad, majoring in fisheries and wildlife.  As a wiry, and obviously fit guy of 30, Strycker became obsessed with bird counting and came up with a plan to count and document as many birds as he could – in one year, all over the world (known in birding parlance as "a big year").  Others had made impressive numbers, totaling over 4,000, but Strycker set a goal of 5,000.  His book is marked with entertaining chapters of his birding adventures (and misadventures), including interesting encounters with customs officials, heading up into the Andes in a van (and breaking down) in driving rain at 16,000 feet, and finding common denominators with total strangers that were birders (some absolutely obsessed with birding) in other countries that he counted on to help him find and identify species.  Each  chapter-adventure has descriptions of the terrain, weather and the birds identified, but also some philosophical and insightful thoughts on human nature and our relationship with the environment.  No spoiler here as to whether Strycker made his goal, but this book is like taking a ride with someone from January 1 to December 31 saying "hold my beer" to chase rainbows; and you know what, you'll find some, and have fun with this read.
It's at your local public library or independent book store.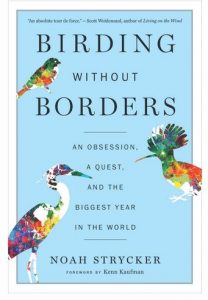 Weekend Book Report (5/16/19):   The influence and recognition of bias has lately become an item of discussion in American discourse; with our nation's history as well as developed societal norms, good and bad, bias is pervasive in the way we treat each other.  Jennifer L. Eberhardt, a Ph.D. and professor of psychology at Stanford, has written a timely book that explores the truths and dispels some myths about bias – implicit and explicit – in "Biased – Uncovering The Hidden Prejudice That Shapes What We See, Think, and Do" (Viking, 2019).  The author starts out in a scientific perspective, discussing the neuroscience behind bias, as well as how evolution has aided it's development over time.  As a result she frames bias as something that one shouldn't feel guilty about having, but compels the reader to recognize that they have it and examine their thinking – since much of it happens "implicitly" – nearly automatic – without thought as to why and without overt malice.    Eberhardt then discusses the history, colonial science (of which some elements are  absurd and heinous, such as slavery and indigenous genocides), and the more contemporary issues, as with white/black relationships, and especially in policing.  (She teaches bias training to police departments around the U.S.)  Bias isn't limited to that dynamic alone, however, all races and all genders engage in the thinking.  Her conclusion in this easy-readable  and somewhat personal narrative (as a black woman, she was arrested, slammed to the ground and her car towed away for expired tags while attend grad school at Harvard) draws on the need for everyone to recognize implicit and explicit bias, and in spite of current trends in government leadership and society to propagate it, deal with it on an individual level, especially in relationships with other races and other genders, so we can achieve a more just, equitable society.
It's available at your local public library or independent book store.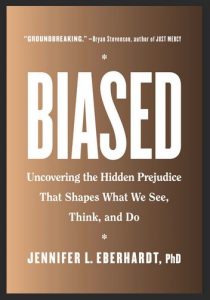 Weekend Book Report (5/4/19):  The election of Barack Obama in 2008 was a watershed moment in U.S. history; the nation's first black president was mired in a severe recession, had wars on multiple fronts and faced what would eventually become a relentless, hostile Republican party and Congress that handicapped the President's efforts and denigrated his accomplishments, culminating in Dick Cheney's declaration that Obama was the "worst President ever" (hence the title of the book).  Mark Hannah, a political analyst and former Obama campaign staffer, comes to Obama's defense in his book "The Best Worst President – What The Right Gets Wrong About Barack Obama" (Harper Collins, 2016).  Hannah is unapologetic in his liberal viewpoints, and his book – made up of chapters divided by political, world and economic issues as subject matter – disassembles the Republican disinformation effort and opposition platform plank by plank with well-reasoned facts (remember them?) and rationale, and celebrates Obama's successes, all along with illustrator Bob Staake's enjoyable sketches.  His defense isn't all-encompassing; Hannah also critiques the 44th president on some of his shortcomings – making analysis over decisions, and data over passion for starters, so it's not all cheerleading.  But those who want to look back (somewhat wistfully, as this was written before the 2016 election) at a sane, rational presidency that took a lot of undeserved hits will enjoy this book, and also sigh over the relentless idiocy that has taken it's place.
It's available at your local public library or independent book store.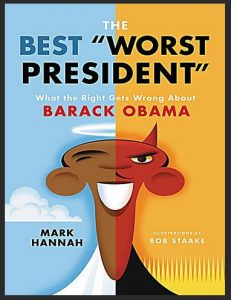 Weekend Book Report (4/28/19):   "Enlightenment" is a term used for the exercise  of reason, inquiry, science and progress, originating about 1750.  When it became a movement, starting in the Western European nations and spreading to the United States and Canada, it became the basis of establishing representative democracies, human freedoms, the value of education of the populace, free markets, inventions and scientific breakthroughs – resulting in phenomenal human progress.  It was a  two-week read and was somewhat deep, but "Enlightenment Now" (Penguin, 2018) by Canadian psychologist and linguist Steven Pinker examines it's history, most notably marked by abandoning magical thinking, superstition and overt religious dogma (and not without conflict), and presses the case for it's continuing renewal – adeptly addressing critics in the process.  The Harvard professor begins with an "enlightenment" primer, with the first chapter "Dare To Understand".  Pinker then takes the reader, in manageable chapters, on an in-depth treatise on how science, reason, progress and humanism has "lifted all the boats" of humanity, backed up with charts, graphs, data and narrative.  In stunningly optimistic and well-presented arguments – and noting that although areas of extreme poverty, war and hunger still exist – overall, the human condition has benefited tremendously – and sometimes we just don't recognize it because we are focusing on the negative and don't calibrate our sights to see how far we have come.  There are still issues, for sure – nuclear proliferation and climate change are the two big-hitters – but Pinker makes a convincing case as he takes the reader through the movement, about how we must continue to persist in it's principles of progress, as well as the handicaps and dangers to it's continued success (i.e., fascism, populism and authoritarianism, for starters).   It's deep, but entertaining read and well worth the effort.
It's available at your local public library or independent book store.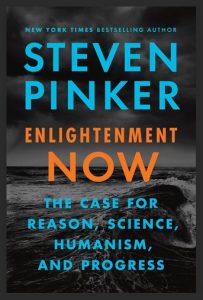 Weekend Book Report (4/16/19):  International diplomacy was the subject matter of my reading for the past ten days; career diplomat William J. Burns' memoir "The Back Channel"  (Random House, 2019) chronicles his story of working up through the ranks of the State Department.  Although not quite a household word in the U.S., Burns served five presidential administrations and reported to several Secretaries of State through a quickly changing world landscape, from the collapse of the Soviet Union and end of the Cold War to the nuclear agreement with Iran, his last major work before retiring.  Burns is now the president of the Carnegie Endowment for International Peace.  His book has sharp-sighted insights on how diplomacy works; strategies and bargaining and tact are obvious needs, and the author summarizes the work with former Secretary of State George Schulz's metaphor of diplomats being "gardeners".  Also in quoting Theodore Roosevelt's "walk softly and carry a big stick", Burns agrees that diplomacy is handicapped without a strong defense as well as the willingness to deploy economic sanctions, but ambassadors, envoys, and diplomatic representatives should be the first deployed in negotiations, as the two other elements can be effectively used as leverage.  Each chapter reveals the inner workings and thoughts of the various administrations; it's apparent the Burns was deep into all of them but not quite at the celebrity level of a cabinet member or other figure in the public spotlight.  It's given him a valuable relationship as both "worker bee" and observer, and makes his story credible, as well as the critique of the current state of diplomatic affairs.  He has little quarter for Donald Trump and his administration; the stubborn arrogance and ideological contempt and broad incompetence has accelerated the decline of the U.S. standing in the world and gives our allies pause in whether they can work with us, with the administration all the while shouting conflicting statements and acting inconsistently in an effort to mask our retreat from prominence on the world stage.  It will take substantial work to rebuild our stature after Trump is gone.  Added to the woes are the draconian cuts at the State Department, resulting in the loss of seasoned, talented diplomats, as well (as Burns admits) as a stuffy, conservative and bureaucratic agency needing reform.  It's a good read for those interested in world affairs and our nation's relationship to them, coming from a credible person who has been immersed in this work.
It's available at your local public library or independent book store.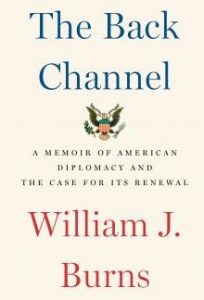 Weekend Book Report (4/6/19):   Our local library prominently displayed this book in their "non-fiction" section at the entry,  maybe by design.  After passing by the shopping carts parked in front and the tents pitched out on the small wooded area on the street corner that represent someone's home and belongings, "$2.00 a Day; Living on Almost Nothing in America" (Houghton Mifflin, 2015) was an appropriate read.  The authors, Kathryn J. Edin and H. Luke Shaefer, are professors specializing in social work and public health (Edin at Johns Hopkins, Shaefer at the Univ. of Michigan).  They follow the stories of several families and individuals through their struggles with extreme poverty in America – defined by the title.  Their work took them to various reaches of the country – Chicago, rural Tennessee and Mississippi, Cleveland – to examine the hurdles one must leap to get out of the abject oppression of living without cash.  Although critical of the cry of "ending welfare as we know it" that Bill Clinton and Newt Gingrich espoused in the mid-90's, and acknowledging that welfare is dead, they do see some practical help for the working poor with the earned income tax credit and SNAP (food stamps).  In being steered to the workplace market for relief, handicaps present themselves, even though the authors present some ingenious resourceful ways that the poor "make do."  Not only are wages insufficient in meeting basic needs, especially housing, but "flexible just-in-time" scheduling, especially by fast food and "big-box" stores handicap single mothers and those without reliable transportation, since hours and pay can be unpredictable and transit can be costly without cash.  Wage theft is also a problem, as the extreme working poor has no recourse with unsavory employers.  In short, the market – touted as "the way out" from poverty – is failing them, and the authors offer other solutions, including public works projects or subsidized employment.   None of the interviewed had drug problems, although their surroundings were pretty dicey, so addicts and users also handicap not only themselves but those trying to stand on their own two feet.  The book is a short read, and the stories are depressing, but Edin and Shaefer are trying to make the point that so many of those who have fallen off the edge become invisible, are judged harshly when they are seen, but most of all, largely trying to lift themselves up in a system that is constructed to keep them down.   Their book offers means to fold the extreme poor back into society and get them on their feet.
It's available at your local public library or independent book store.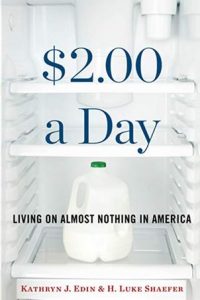 Weekend Book Report (4/2/19):    Israeli historian Yuval Noah Harari made a splash a while back with his book "Sapiens", which discusses the history of humankind, looking at the past with unusual insights.  He has followed up with "Homo Deus – A Brief History of Tomorrow" (Harper Collins, 2017), looking at the future from that historical perspective.  The book is "heavy" in both content and physical gravitas (the 448-page paperback is printed on heavy stock and must weigh at least five pounds).  Harari, a noted historian and Ph.D. from Oxford, looks at the trends moving forward and juxtaposes them from the earlier historical societies, and deftly draws predicted outcomes without setting them in concrete.  If nuclear war, ecological collapse and extinction by disease manage to be set aside (of which he is optimistic in doing so), he portrays a picture of a world dominated by algorithms, where humans happily give up their privacy, personal data and decision-making (in an almost religious-like faith he calls "dataism") to computers and machines – and the persons that operate them.  Those who master the dominion of algorithms (he mentions Facebook and Google in particular) can essentially rule the world, since people will adopt an almost religious fervor in submitting to them, happily abandoning democracy and human rights in the process.   It sounds like a science fiction tale, but as he weaves the human endeavor within his well-thought treatise on human history, it is plausible – and greets the reader with all the subtlety of a punch in the nose.  It is heavy reading (use a pillow to lay the book on since this is no lightweight paperback), but it is clear, fascinating and thought-stretching, and is a commendable follow-up to his previous work.
It's available at your local independent book store or local public library.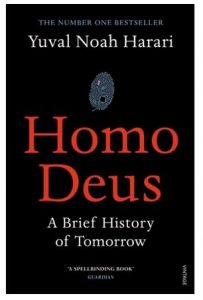 Weekend Book Report (3/24/19):  In a hectic, information-overloaded and occasionally dark and angry world, one can lose their own sense of purpose, direction and self – known as "agency".   In "The Power of Agency" (St. Martin's Press, 2019) by Drs. Paul Napper and Anthony Rao address a common theme of our contemporary era that they term "the age of overwhelm".  Social media, unceasing cable television, political polarization and 24-hour work demands have taken their toll on many.  They say that the average human sees nearly 4,000 items of persuasion (advertising, opinion, chats on social media) and process over 34 gigabytes of information – a day.   Human evolution has never accommodated this type of overload, and the results have been flawed judgment, poor decisions, overwhelming stress and the resulting use of medications, legal or not, and a loss of human connectedness that exacerbates the sense of loss of control of one's own "agency".  The authors are well-versed in psychology; Napper runs a management psychology consultancy and Rao is a cognitive-behavioral psychologist; both are from the Harvard Medical School.  Their book takes a warm approach to the reader that doesn't get too wonky with clinical terms; and together they have crafted a seven-element approach to re-establish "agency".  Their chapters expound on their elements, and the book provides a reader useful tools (here's a hint on one:  "Control Stimuli" – i.e., screens, social media, television, emails should be purposeful instead of attention defaults).  It's a good read, not too long (294 pages) and can be useful as another strategy to redefine your time, purpose, and sense of ownership in yourself.
It's available at your local public library or independent book store.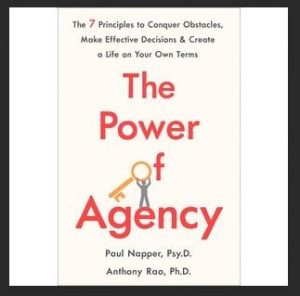 Weekend Book Report (3/21/19):   Self-help books were once the rage (and in many circles, still are) with readers looking for personal fulfillment and solving relationship issues.  This week's read, "America, We Need To Talk" by Joel Berg (Seven Stories Press, 2017), takes that a bit further.  Berg, who is CEO of the non-profit group Hunger Free America, has crafted a lengthy work laced with biting critique, but dosed with generous humor in his effort to get Americans to take responsibility for their governance.   Instead of blaming "politicians" and "the system" and using other dismissives, the author first takes a lengthy list of America's ills – "the relationship issues" – and opens the eyes of the reader:  hunger in America, crumbling infrastructure, infant mortality,  wasteful spending, authoritarian impulses by leadership and other maladies, presented in painful, but factual detail.  But the second half of his book is a game plan on how to work out those issues; it's action oriented, and there's a lot of detail as well (and as you might imagine, he focuses a lot on childhood hunger), and Berg demands that a relationship takes two to make it work, and that "other one" is you.
It's available at your local independent book store or public library.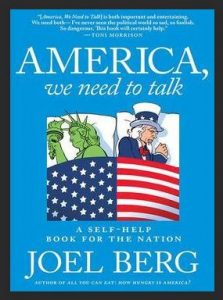 Weekend Book Report (3/8/19):   There's an inherent bias here; Robert Reich has always been one of my favorite public figures and authors.  He manages to make the progressive ideals he espouses articulate but simple, and presents his arguments that land in the realm of respectful debate.  I love his "time lapse" butcher-paper drawings, too!  So when I saw his latest book "The Common Good" (Vintage / Penguin Random House 2018), I had to snap it up for a mid-week read.  Reich, a leading professor of Public Policy at UC-Berkeley, writes like he speaks – in a calmly articulate and non-alarmist manner about the need for our nation, in order to adhere to our democratic freedoms and principles, to reach back to finding 'the common good'.  He defines it a respectful, thoughtful debate, respecting the rights of the minority, and the return to civic education in both our school system and public arena.  He laments the straying from that principle by politicians, business and persons, and cites several egregious examples – "Pharma Bro" Martin Shkreli, who fleeced millions with price hikes and bragged of his lack of moral grounding; John Stumpf, CEO of Wells Fargo who sat face-to-face over coffee with Reich and said he was "looking out for his customers", and soon thereafter his bank was fined for fraud, and of course, Donald Trump, who exemplifies "common good" abandonment, although Reich doesn't dwell on him too much, but shows how the apex of this malady has manifested itself.  He also warns of the dangers of society justifying the abandonment of the common good ("if they're doing it, why not me?"), especially in our discourse on social media.  Reich, the progressive, goes after his own wing as well, warning that "win at all costs" isn't limited to conservatives and radicals, and that liberals need to search for the "common good" – and cites examples in Bill Clinton's administration (where he served as Secretary of Labor) and the Obama years that strayed from the principle as well.  The book wraps up with some recommendations on how to find our footing again – "because we must to preserve our republic", Reich says – and the book makes for a cautiously optimistic tonic for a cynical era that has lost it's way.
It's available at your local public library or independent book store.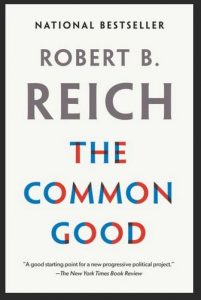 Weekend Book Report (3/6/19):  The ubiquitous presence of social media and the gadgets that flood our society, addicting us and dominating our behavior, is the subject matter of this week's read, "Digital Minimalism" by Cal Newport (Penguin / Random House, 2019).  Newport, an associate professor in computer science at Georgetown University, in an ironic twist, uses social media very infrequently, and as one who has studied the phenomena, has some keen observations on it's qualities and pitfalls.  More importantly, he uses that same knowledge (of what he calls the "digital attention industry") to enable social media users to look up from the screens, rediscover life, and enjoy the social and psychological benefits of being "real" again.  There are several keys to this; and Newport includes removing social media apps from your smartphone, rationing time online, getting a different device (like an old-fashioned flip phone), starting out "cold turkey" (30 days off line to get started) and – this may be difficult for some) re-establishing relationships IN REAL TIME – IN PERSON (emphasis mine) with those you now communicate on line.  Viewing your use of social media from a different paradigm ("it's your time, but they're making the money") is emphasized.   The book is an easy, entertaining read, not too preachy and relatively short, so I highly recommend it for anyone who is trying to understand what the world looks like when you're not looking at a screen.  You may meet your kids, parents and friends all over again!
It's at your local independent bookstore or local public library.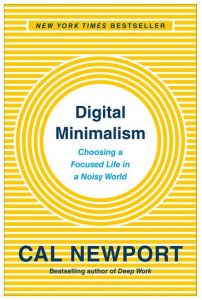 Weekend Book Report (3/1/19):  Many political pundits try to describe the "rural / urban" divide; many say it's where the fault lines in the 2016 election were drawn.  The book I read this week, "For-Profit Democracy – Why the Government is Losing the Trust of Rural America" by Loka Ashwood  (Yale University Press, 2018)  dives into the subject on the rural side of the equation.   Ashwood, who is an assistant professor of rural sociology and agricultural economics at Auburn University in Alabama, focuses on Burke County, Georgia as her example.  The county lies on the border with South Carolina and is the site of both the Savannah River Project (a nuclear waste site) and Georgia Power's nuclear plant.  The author moved to Burke County, renting a trailer in the back woods (where the landlord insisted she carry a pistol and learn how to shoot it) and she paints a colorful, lyrical narrative with interviews of local residents.  Common themes emerge;  the most prominent is the use of eminent domain by public agencies for private benefit (profit) and the mistrust and misrepresentation that corporate interests engaged in to achieve their means.   The economic disparity between black and white residents, especially in compensation for the property takings, and the fierce, independent spirit of the inhabitants – where a gun is insurance, religion is a salve, hunting and fishing are sacrosanct – meet with  corporations who use the rural environment as a path of least resistance to both environmental and human abuses for profit (which is the rationale for the book's title).  Her case study of Burke County doesn't include discussion of  situations in other rural areas nationwide, but the denominators are the same – and if you read this book, you see similarities to South Dakota, Arizona or elsewhere (even zoning in urban areas).   It's a case study, without a lot of answers, on how empowerment of rural citizens can be elusive in the face of governments that see rural areas as centers of profit instead of governance by the will of the people.
It's at your local public library or independent book store.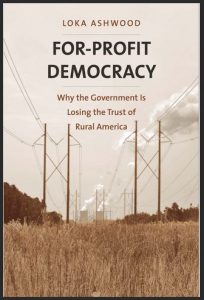 Weekend Book Report (2/25/19):  Whew.  This one took a while, but it's a storied and controversial work:  "A People's History of the United States" by noted historian Howard Zinn (Harper Perennial, 2015) was originally published in 1980.  Zinn, a professor of history at Spelman College and political science professor at Boston University who died in 2010 at age 87, is an unabashed, self-described "anarchist" and "democratic socialist" who challenged norms and viewed the history of the U.S. in a very different manner.  He was challenged and maligned for his work, primarily due to his descriptions of history that were from the side not very well represented:  the landing of Columbus from the view of the Arawak tribe, displacement from the view of the Native American, slavery from the view of the slave, work from the view of the worker, suffrage from the view of the woman, and commonly referring to the dominant influence of United States politics and government as that of corporate and white male dominance.  It doesn't wear well with conservatives and those who prefer the more sanitized version of history.  It is a long, enduring read, 670 pages of paperback, and can be somewhat tedious.  But a read of this book, if for academic comparisons only, is an important, even mandatory step in understanding the various perspectives of U.S. history.
It's available at your local public library or independent book store.
Weekend Book Report (2/3/19):   Of the many  books that have ecological themes, most about disasters and impending doom for planet Earth.  A lot have have merit, but we're not giving up without a fight, according to Paul Hawken's "Blessed Unrest – How the Largest Social Movement in History Is restoring Grace, Justice and Beauty to the World"  (Penguin, 2007).  The author is a well-known environmental activist, speaker, and writer from northern California who runs "Project Drawdown", a non-profit dedicated to reversing global warming.  His environmental work revolves around the  concept of ecological capitalism (where the earth's resources are treated like they are drawn from a bank and must be repaid).  This book, even at twelve years old, is still timely; it addresses the work thousands of organizations, non-profit or otherwise, and hundreds of thousands of people who are fighting for our planet's sustainability and ability to support life – both of which are under jeopardy due to rapacious and injurious acts to them taken by resource extraction by multinational corporations and the burning of fossil fuels.  Many of his points are common themes within the environmental community; wind and solar generated power, sustainable agricultural practices, replenishment and preservation of forests, and others, but the point he drives home is that the push for ecological balance and environmental preservation of our planet is being conducted by many more people than we think – we just don't see them because they are so diffused and granular in their presence.  Two items the book left me with are his definition of being a responsible steward of the earth – "never let an action inhibit the earth from the ability to heal itself", and the fact that environmental responsibility is inherent in the act of a single person – you.  Your environmental organization may number only one, but you have plenty of company.  There is an excellent appendix that sorts out and defines environmental terms.
It's available at your local public library or independent book store.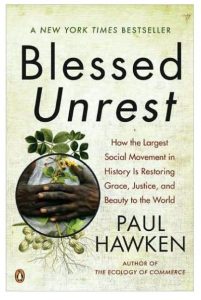 Weekend Book Report (1/20/19):   So I completed a double-header of progressive books this weekend, wrapping up with this "how-to" manual on fighting the emerging authoritarianism in the U.S. :  "D.I.Y. Resistance – 36 Ways to Fight Back!" by Anthony Alvarado (Seven Stories Press, 2018).  Written in the same vein as the 1971 classic "Steal This Book" by Abbie Hoffman, (but a little bit tamer), Alvarado, a Portland resident who specializes in "D.I.Y Magic" and is a writing instructor at Portland Community College, breaks his manual up into the topical sections of "Survive!" "Fight!" and "Liberate!".  Many of the instructions are basic self-preservation and self-help, including mindfulness meditation, hobbies, and maintaining social networks, but there are some practical organizing, publicizing and advancing progressive agendas here as well.  It's a quick read, and even could be categorized as a reference guide, and those who are immersed in turning the tide of progressive politics back to the plus side in the age of Trump would be wise to keep it in their hip pocket to recharge.
It's available at your local independent book store or public library.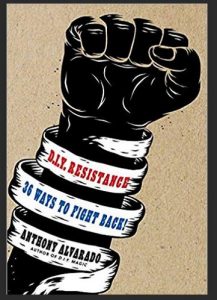 Weekend Book Report (1/19/19):  Bernie Sanders has a sequel.  The U.S. Senator from Vermont and former presidential candidate released his follow up, "Where We Go From Here – Two Years in the Resistance" (Thomas Dunne Books, 2018) last fall, but it was prior to the mid-term elections that added 40 Democratic seats to the U.S. House.   As a result, the book is somewhat dated; comprising of a chronology of Sanders' travels around the country last year. He reaffirms and pounds home his points of addressing money in politics, income inequality, and environmental protection, as well as social and racial justice.  For his followers, it's reinforcement and a call to keep up the fight through his post-election organization, Our Revolution; for those relatively new or interested in his deep-seated progressive principles, it's a quick read and easy way to understand his movement, which has caught on, and, with the results of the midterms, picking up steam.
It's available at your local public library or independent book store.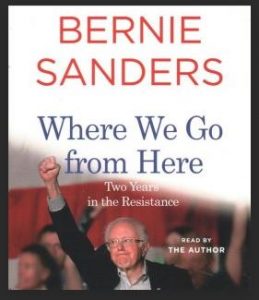 Weekend Book Report (1/17/19):   For the most part, my reading this year has been centered around politics, philosophy and nature.  With a lot of other happenings this month, it took about a fortnite to finish "The Nature Instinct – Relearning Our Lost Intuition for the Inner Workings of the Natural World" by  English author, adventurer and "natural navigator" Tristan Gooley (The Experiment Books, 2018).    The respite to nature was well worth it; the author, who has both flown and sailed across the Atlantic Ocean and features a website called NaturalNavigator.com, has written several other books on this subject as well. He writes in beautiful form, on how our relationship with nature has been lost to many but can be easily regained with some patience, wisdom and observation.  He embarks on just how to do that with short and eloquent chapters that convey the many methods, signals and evidence that one can use to find their way, discover certain species (whether for hunting for sightseeing) and truly connect with the outdoors.  Categorizing recognizing elements of the outdoors as using "slow thought" and "fast thought", Gooley educates the reader on how to achieve a second-nature revelation on the latter, which he insist is easier than you think and once acquired, is hard to shake and isn't an exclusive province of the wilderness; many of Gooley's passages are about walking in the English countryside.  He cites examples in nature as well as humans who use the skill to survive, including the bush people of the Kalahari and Bedouins of the Sahara Desert., but also offers wisdom on how to predict which way a flock of sheep will go – and be right!  It's a great read for hikers, and other outdoors people, but backyard birdwatchers and people who walk dogs in the park will appreciate his wisdom.
It's available at your local independent book store or public library.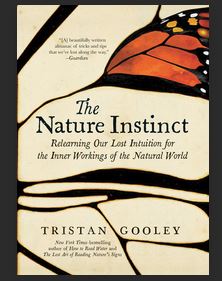 Weekend Book Report (1/5/19):  Bob Woodward is a storied reporter and now associate editor for the Washington Post; his long-time connections and trusted sources inside the beltway have made him one of the most impactful journalists in contemporary U.S. media.  When he released "Fear – Trump In The White House"(Simon and Schuster, 2018) in the middle of last year, the field got a bit crowded in competing with books by Comey, Clapper, McCain and others (i.e., "Fire and Fury").  I finally got around to reading my copy; it's a bit dated since the merry-go-round at the White House has had other players come and go.  But this work cuts to the chase; Woodward puts together short vignettes in short chapters and puts the reader inside the White House with the impetuous, inattentive, petulant, backstabbing, angry and corrosive personality of Trump, (whose signature quote is "Power is fear", which serves as a base for the title) as well as the predatory urges of acquiring power by his inner circle – Steve Bannon, Ivanka, Jared Kushner, and others, who take advantage of his deficiencies while others (mostly adults in the room) quit in frustration (Tillerson – "he's a moron"), Dowd (Trump's own attorney – "he's a f*cking liar') when essentially trying to get him to understand the irrationality of his actions – and even government itself.  It's quite a riveting read; Woodward cites all of his sources in a lengthy appendix and thanks his many collaborators.  Along with the other corroborating books that have emerged about life in the White House, it will leave the reader wondering – how in the hell did we end up with this guy running our country?
It's available at your local public library or independent book store.