This page is the archive of Weekend Book Reports from Aug – Dec 2019.  For earlier Book Reports (Sept 2017 to Aug 2019), click here.
Weekend Book Report (12/20/19):   A shattered perspective of how we may see people (and how people see themselves)  made for a touching, insightful read this week.  "Normal Sucks – How to Live, Learn, and Thrive Outside the Lines" by Jonathan Mooney (Henry Holt, 2019) leapt off the "new non-fiction" shelf at the library, and this raw, personal story of the author brings a revolutionary look at what we know as learning and physical disabilities.  Mooney's story is quite personal, having lived with ADHD and dyslexia, and living with parents, step-parents and siblings that were by his own admission quite "different", with some hair-raising stories to describe it.  He argues the efforts towards the assessment term "normal" and states the case that the need to conform to it is discomforting, damaging. and depressing and does little to enhance the growth of those who are being forced into them.   He addresses the mandate of "normal" throughout history, including more tragic and egregious acts in it's exercise, including eugenics and outright genocide of "defectives" as in Nazi Germany, but also critiques the need for "special" education and inappropriate (and sometimes cruel) methods of dealing with hyperactivity and other behavioral issues.  He worked on his identified issues, eventually attending Brown University and UCLA, and as seen in this book, is an insightful, colorful, and riveting author.  His metaphor of humans being "a bundle of broken glass, where pieces are rounded and stored inside, but inevitably jagged pieces still occasionally stick out" is one of the great assessments of the human condition, and after reading this entertaining and touching book, you will see how trying to make everyone "normal" is not necessarily making everyone better.
It's available at your local public library or independent book store.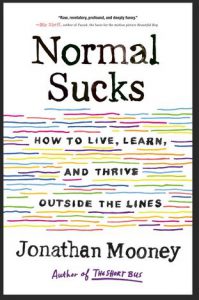 Weekend Book Report (12/13/19):  Dissent and protest are as American as apple pie; from abolitionists working to end slavery to protesters urging for the right for women to vote.  The methods and acts may vary, but the fruits of the struggle is persuasion, resulting in awareness and change.  "Necessary Trouble – Americans In Revolt" by Sarah Jaffe (Nation Books, 2016) is a chronicle of more recent protest actions as well as their underlying causes.  From "Occupy Wall Street" to actions by the Chicago Teachers Union to Climate Change activism, Jaffe, a journalism graduate from Temple and Massachusetts native, is well-known in independent book circles for her coverage on dissent, fills her chapters with deeply researched examination of the issue and includes successes as well as flaws in tactics and message by the various protest movements.  Anyone in this day and age that is incensed by the actions of the current administration (and even those who are not) would take heed to read this book, especially if they plan to join the ranks of protesters and dissenters, or just to have a better understanding of them.  The reading may become a bit tiresome, as the deep examination of the issues have a common denominator – struggle – and the weariness that is endured by those who engage in protest may rub off on the reader as well.  But the work is as timely as it is important.
It's available at your local public library or independent book store.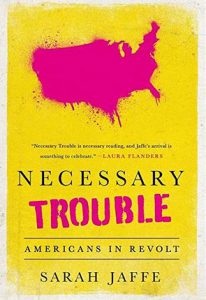 Weekend Book Report (12/6/19):  Even with all the categories of books, some can be hard to find a fit.  Although it's easily considered non-fiction,  Boston resident James Geary's "Wit's End – What Wit Is, How It Works, and Why We Need It"  (W. W. Norton, 2019) is a quirky, delightful work that defies traditional reading.  In chapters of various structures (poetry, letters, narrative, scientific treatise and glossary), Geary discusses with a dose of humor (and guess what – wit) the sharpness of the mind, deft use of language, and how honing the skill of wit has helped many in history (in the case of a court jester, save their skin) and can be beneficial for those who find themselves in discussions (political or otherwise) in this day and age.  The author is also an avid juggler, and he manages to make all of the "balls in the air" land in the right places at the end, even though the reader may feel a bit like a juggler's ball, not knowing where they will land – and safely.   It's a short, entertaining paperback and will be a welcome break from whatever conventional reading you may be taking in.
It's available at your local public library or independent book store.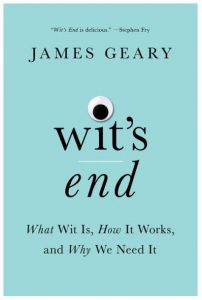 Weekend Book Report (11/29/19):  Science should be accessible, friendly and provide young people (as well as us older folks) an avenue for curiosity and learning and author and astrophysicist Neil deGrasse Tyson seems to always fill the bill.  I read his 2017 work, "Astrophysics For Those In A Hurry" earlier this year (review is in the archives), which dealt with the more scientific machinations of his work.   "Letters From An Astrophysicist" (W.W. Norton, 2019) delves into a more personal side of Tyson.  There's not a lot of science here, it's composed of correspondence he has filed over the years where he shares his experiences, outlook, philosophy, and yes, some science.  Questions on topics such as science and religion, the role of the military, ethics, life and death, his career and those interested in it, and even a recollection of the trauma of witnessing 9/11 (Tyson lives in New York) are covered.  Tyson's insightful and respectful responses, even in the face of virulent and angry posts,  makes this book an interesting window in the thoughts of one of the more respected and brighter minds of our time.   It would make a great book for a younger adult, but is an entertaining read for any age.
It's available at your local public library or independent book store.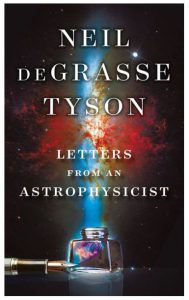 Weekend Book Report (11/24/19):   In indulging in a little more civically-minded reading this week, I picked up this interesting essay about the state and future of liberal politics.  "The Once and Future Liberal – After Identity Politics" by Mark Lilla (Harper Collins, 2019)  is a partisan (addressing advocacy for liberal causes) but also rather biting self-critique on where politics have drifted on the left, and in doing so, critiques the conservative side as well.  The prize-winning essayist, who is a Professor of Humanities at Columbia, has crafted  a short and easy read, divided into three sections with a foreword.  At first, he identifies two distinct  periods of recent American history that he calls "dispensations" – the Roosevelt and Reagan eras, where during the Roosevelt era (facing war, depression and fascism) an element of shared purpose transcended individual pursuits (i.e., the "Greatest Generation"), with the transformation coming during the Reagan era, where individualism, personal fulfillment and material gain took over.  He maintains that liberals soon co-opted that in the form of "identity" politics (where the "I" is more important than the "we"), and identity has become more important than persuasion, which is a more important staple in democratic politics.  He calls this "the abdication", and while conservatives have relished in it's effectiveness, it has denigrated society overall with the degradation of solidarity of American civic engagement.   The two other sections, "Anti-politics" and "Pseudo-politics", elaborate on how this have been implemented.  Lilla summarizes the antidote in the last section, "Policies", where the role of citizenship (clarifying not becoming a citizen in the naturalization sense, but exercising civic engagement in an active manner), listening to others and representing the common good as a result.    The election of Donald Trump represents none of this (a mob, as he calls it), and the lack of political vision by both political parties makes this an opportunity for liberals, already energized from facing the demise of democracy in America with Trump,  to abandon identity politics and  rebuild the American electorate's solidarity and consensus across many political stripes to become an effective and lasting political force in America.
It's available at your local public library or independent book store.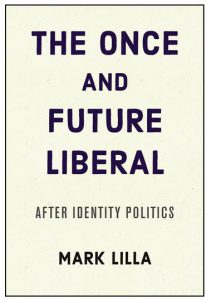 Weekend Book Report (11/21/19):    Blame it on the lack of civics education in school and society, a fractured media landscape, or plain old ignorance, but many Americans do not understand the role, relationship and shared powers of the tree branches of the Federal government, especially the power of the executive branch.  "The Oath and The Office" (W.W.Norton, 2018) by constitutional scholar Corey Brettschneider comes to the rescue; the professor of political science at Brown University has crafted a manual, written from the perspective of a "how-to" guide, directed at anyone who would want to be elected President of the United States.  In three distinct sections (Powers, the Bill of Rights and Checks on the Office), the author lays out in simple but effective detail what a president can and cannot do; obviously there will be differences in opinion (and Brettschneider interjects a few of his own), but this easy-to-read book makes for a great civics lesson for those who really could use it (and that's a lot of us, including the office's current occupant!).
It's available at your local public library or independent book store.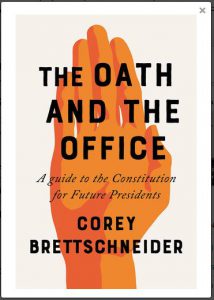 Weekend Book Report (11/15/19):  While on a relaxing vacation that incorporated some nature hikes and grand scenery in the high South Sierras of California, I took some pleasure in reading not one – but two books by the same author, who is a delightful and easy read.  "The Weather Detective" (Dutton Books, 2012) and "The Secret Wisdom of Nature" (Greystone Books, 2019) by German environmental writer Peter Wohlleben .  The author was a member of the forestry commission in Germany for twenty years and maintains his own woodlot and farm there, and is also the author of "The Hidden Life of Trees" (which is next on my environmental reading list).  Wohlleben's books have been translated into English, but they have preserved his refreshing writing style that is easy to read, but somehow sneaks in some environmental knowledge and common sense along the way.  "The Weather Detective" encompasses observations, physics and meteorology, instructing the reader how certain phenomena and clues can be used to ascertain oncoming weather and climate patterns.  "The Secret Wisdom of Nature" revolves around land use, forest health and disease (inclulding deforestation) and management of game and other animals and the way it affects the nature around us.   They are both rather short, easy, but enjoyable reads, and possibly the three books together (although he has written others) could be a great intellectually-stimulating gift to a younger budding environmentalist, or someone who wants to understand nature without a load of jargon or technical terms.
It's available at your local public library or independent book store.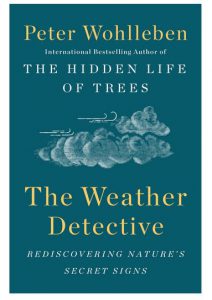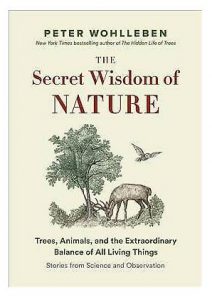 Weekend Book Report (11/2/19):   Canadian journalist and science writer Malcolm Gladwell has been on a roll.  With recent works as "Blink",  "The Power of Thinking Without Thinking" and "The Tipping Point" (reviewed here earlier this year), among others, the author has been a mainstay on the New York Times Bestseller's List.  Gladwell's latest book, "Talking to Strangers – What We Should Know About The People We Don't Know" (Little Brown, 2019) appears on the list at the time of this writing; and deservedly so.  Gladwell explores human communication, and why we can be so badly mistaken in the assumptions we make when we engage with people we don't know.  He cites stories of such, including the meetings of Neville Chamberlain and Hitler before World War II,  the trial of Amanda Knox, focuses on the encounter between policeman Brian Encinia and motorist Sandra Bland (which he says is what motivated him to write the book), and also the suicide of poet Sylvia Plath.   Seen from a different paradigm, Gladwell points out that not all body language, voice inflection, facial expressions and reactions mean the same thing – influenced by culture and/or the expected cultural norm of the initiator.  "Default to truth" – believing a person by habit, which happens a lot – can be damaging, and he cites that dynamic in Penn State sexual abuse scandal.  Another chapter discusses how alcohol consumption plays a role; either benign, as in the structured weekend-only drinking of an entire tight-knit community in Bolivia, or severe, as in the Brock Turner sexual assault trial.  Knox had a quirky personality, especially in what was interpreted as inappropriate reactions  to the murder of her friend that prosecutors seized upon; Encinia became agitated with Bland (and vice versa) because of his antagonistic demeanor, and as a cautionary tale, it has a corrective template for police / citizen interaction;  and of course, the story of Chamberlain and Hitler (where the British Prime Minister thought he was an honest guy) is the stuff of history.  Gladwell also explores interesting data about suicide – determining whether one is really hell-bent on ending their life or reaching for help – in the study of Plath.  In discussing the concept of "coupling" (availability and motive) the author says it can affect how suicidal people communicate, and whether they are successful in doing so.    Suicides among women in England in the first half of the 20th century were prevalent by putting one's head "in the oven" (as Plath did).  The suicides dropped dramatically when the country converted from coal gas to natural gas (the former being much more toxic and lethal) in the '70s.  He also touches on the relationship of the availability of handguns and suicide among males in the U.S., and why authorities haven't put nets under bridges to catch would-be jumpers (under the assumption that one will find a way to kill themselves anyway, one that Gladwell refutes, with data).    The book wanders a bit, but the core premise is the same – how to understand and communicate with people we don't know.   He ends with some recommendations – as there is no easy answer –  but the value in the book is, when we're not staring at our smartphones, talking to strangers requires a much more discerning understanding than we often lend it.
It's available at your local independent book store or public library.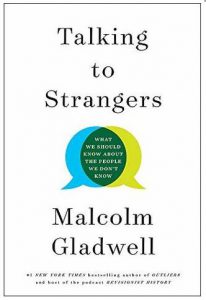 Weekend Book Report (10/25/19):   It's been a tumultuous time in America since the minority-election of a narcissistic boor with authoritarian tendencies as president.  As a result, much of my reading has been of the theory, principles and practice of our republic.  This week's read, "Antidemocracy in America – Truth, Power, and the Republic at Risk" (Columbia University Press, 2019), edited by Erick Klinenberg, Caitlin Zaloom and Sharon Marcus, is a series of essays that discuss the state of our country in three stages:  Where We Are, How We Got Here, and What We Can Do.  In each section are thoughtful, insightful works from 32 political science, constitutional and sociological scholars covering a variety of issues:  civil liberties, labor, information and disinformation in the media, corporate influence, the environment,  the sociology that follows a demagogue, and a host of other salient subjects in today's society.   It sounds like a tall order, but the essays are short, and the book is relatively short (275 pages), so reading it is compartmentalized and comfortable.  It is also a powerful box of tools for the average citizen to understand our relationship with our own freedom and subsequent governance, and more importantly, how today's political climate has put our nation in peril, and what to do about it.
It's available at your local public library or independent book store.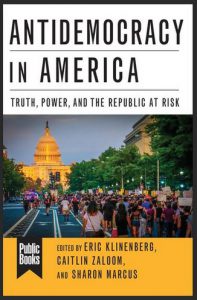 Weekend Book Report (10/15/19):  This week's read was partly personal; in disclosure, I ran for public office (twice as a State Representative and once as a County Council member) over the past three decades as a "blue" candidate in what is considered a "lean red" district.  I came close in the first two (48.5% and 49.2% in the state races, the Council race, which was more "red", was at 42%).  So this book, "Blue Man in a Red State" by Greg Lemon (TwoDot Publishing, 2008) seemed to be an intriguing read.  It's the story of Brian Schweitzer, who became Governor of Montana during a surge of western populism that some Democrats hitched on and got elected in states not known for their liberal tendencies – Montana, New Mexico, Colorado.  The book, however, can be a disjointed read; the author who was raised in Eastern Oregon, was a writer for the Hamilton (MT) daily newspaper, and the flow of the book seems to go from one anecdote to the other, with some unabashed personal opinion thrown in.  The book does provide some value; whether you agree with the platform Schweitzer carried (coal gas into fuel, and development of some sensitive areas for starters) he does advocate for those pragmatic government functions that make sense to many – good schools, roads, efficient public spending and services – added to that an untiring work ethic  and approachable, authentic and friendly persona, which is a necessity in Montana, he won the governorship easily.  Schweitzer, once rumored to be a vice-presidential or presidential candidate, has now been pretty quiet on the political scene.  It's quick reading (disjointed structure notwithstanding) for political junkies, but due to it's age, may not be relevant for many except us policy wonks or former candidates.
It's available at your local public library or independent book store.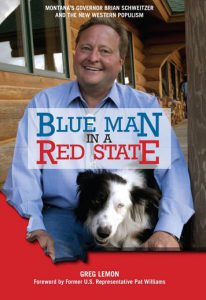 Weekend Book Report (10/6/19):   I took along some reading on an autumn respite and getaway to Vancouver Island for the last two weeks, and in between hikes and sightseeing I read this interesting and cerebral (pardon the pun) book "The Secret Life of the Mind" by Mariano Sigman (William Collins Publishing, 2015).  Sigman, who is a physicist by trade at the University of Buenos Aires in Argentina, dives into neuroscience – the study of the human brain – and outlines interesting stories, tales and constructs of the organ without being too wonky or laden with jargon, and manages to throw some humor in as well.  His chapters work across various issues; whether infants actually communicate and have cognitive thought patterns, even though they do not have the gift of speech, then Sigman moves to how the brain creates identity, consciousness and dreams (and how one can work with them), and how the brain is transformed through education – much of which it does itself.  It sounds heavy, but the book is quite enjoyable, reasonable in length (240 pp) and depth, and apparently provocative in the neuroscience circles which piques interest – and you don't have to be a brain surgeon to understand it.
It's available at your local public library or independent book store.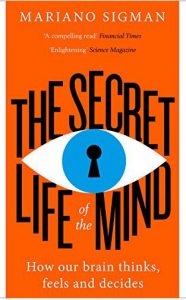 Weekend Book Report (9/22/19):     The state of Wisconsin has a storied history of progressivism; from the settlement of Scandanavian immigrants in the early 1800's who carried those ideals to the election in the early 1900's of Governor and U.S. Senator Bob LaFollete, a still-revered progressive who ingrained them into the Wisconsin "experiment".   The state was a forerunner in worker's compensation,  public education,  infrastructure, collective bargaining, living wages and environmental protection, and led the nation in many of those categories.   The wheels came off of Wisconsin's luster with the attacks by a reconstituted Republican Party (who once supported those ideals, but from a more conservative viewpoint) with a coordinated effort at gerrymandering, shady tactics and dark money from corporate interests, as described by "The Fall of Wisconsin – The Conservative Conquest of  a Progressive Bastion and the Future of American Politics" by Dan Kaufman "(W. W. Norton, 2018).  Kaufman, a Wisconsin native who now lives in Brooklyn and writes for the New Yorker and New York Times, researches deeply into the methods and tactics employed by, among others,  Americans for Prosperity (the Koch-funded campaign organization) and ALEC (American Legislative Exchange Council), a corporate interest group that writes legislation and gives it to legislators with marching orders.  By dividing union members by interest, dividing urban and rural voters by fomenting resentment, characterizing public employees and teachers as overpaid, lazy and under-performing, and using initially small majorities in the Wisconsin legislature to gerrymander districts to insure dominance while receiving  large sums of dark money to cater toindustrial and business interests, they have largely succeeded.  The players – Gov. Scott  Walker, Congressman Paul Ryan and State Senate Leader Scott Fitzgerald, among others, were proxies for the effort, and many of the bills passed – gutting public sector unions, passing legislation to permit huge iron mines in sensitive areas and establishing political permanence by legislative fiat – were passed without public comment and often in inconvenient, unannounced time slots.   Kaufman interviews many Wisconsinites, urban and rural alike, and shares their stories, while documenting the decline of Wisconsin's institutions  – decrepit roads, budget deficits, teachers and professors being poached by other states, and polluted waterways and shady corporate giveaways (i.e., Foxconn) – as a result of Walker's tenure.  Kaufman warns that Wisconsin is a template to be used by Republican corporatists in other states, and have found a new champion in the current White House.  He doesn't offer much in response; although dark money is toxic and formidable to the political process, he does see solidarity and common ground among the populace as an antidote, recognizing that creating division  is the best advantage corporate and business interests have.  In an afterword, he does offer the glimmer of hope with the recent election of a Democratic governor, Tony Evers.  The book is deeply researched and highly readable for political observer and activist alike, and can be viewed as the other team's playbook to undermine democracy and suppress the working class – and how to mount a defense.
It's available at your local public library or independent book store.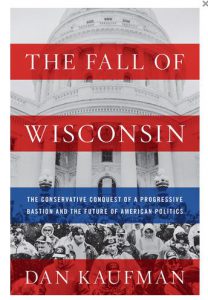 Weekend Book Report (9/15/19):  The September rain is back with a vengeance, so what better time than to curl up on a chair with my cat in my lap and get another book in for the weekend.  I picked up "This America – The Case For The Nation" by historian Jill Lepore (Liveright Publishing, 2019) at a recent book-buying binge at Powell's in Portland.  The author, a professor of American History at Harvard, has several other notable, award-winning works; "These Truths" and "Book of Ages" will be good follow-ups to this one.  This relatively short work (151 pages) is a powerful essay, partially about, and critiquing, the lack of American historians' attention to our national history, especially since the 1980's.  The emergence of a predominantly white, nationalistic conservative movement, globalism and racially-based divisions as a result have been overlooked by historians, in her opinion, in favor of a more global and less relevant worldview.   Lepore also explains the definition and formation of nations (a relatively new phenomenon in the long view of world history), and ultimately makes a compelling case for liberal democracy as opposed to the dangers of illiberal nationalism – disturbingly prominent now – with the two often at odds and occasionally being hybrid, both in the U.S. and other nation-states.   She takes an unflinching view of U.S. History through events, leaders, and quotes from notable Americans, and summarizes the case for the nation in the last chapter, "The New Americanism."  Using a seasonal metaphor, she says "winter is here, but spring always follows," casting our political quandary in an optimistic light and expressing that our nation has been through worse and recovered.  It's a good read for anyone interested in the political condition of the our country right now; even if they feign disinterest –  as you better get off your duff and take part.   A telling quote struck me after reading this book.  The ancient Greek statesman Pericles said:  "You may not be interested in politics, but politics is interested in you."
It's available at your local public library or independent book store.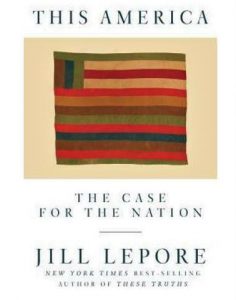 Weekend Book Report (9/13/19):    There seems to be a litany of books written by recently-retired or otherwise departed public figures, and thankfully all of the ones I've read have some sort of redeeming quality, whether it's revealing well-thought insight or just what happened inside the walls of their domain.  The latest, "Call Sign Chaos – Learning to Lead" (Random House, 2019) by Gen. James Mattis is a worthy endeavor; the puzzling title (to non-military folks) is an acronym identifier (often used tongue-in-cheek) for him in his early career, meaning "Colonel Has An Outstanding Solution".  Mattis, a Northwest native raised in Richland, WA,  along with his collaborator, military author Bing West, covers his military career and experiences in battle in a precise, chronological manner, and reflects those in themes divided into three levels of leadership:  Direct, Executive, and Strategic.  He is steeped in Marine honor and tradition, including "praise in public, criticize in private", and holding true to that, never mentions names of the officers he demoted or dismissed, identifies those who he thought held merit, and holds a reverent view over his charges that lost their lives and focuses on the overarching principle relentless training and teamwork.  Many strategic and tactical descriptions of the fights in Iraq and Afghanistan are covered, and military historians and students of war would be interested in Mattis' observations and experiences, emphasising a clear vision and assignment, and decentralizing that decision making to the front lines without a lot of bureaucracy, trusting his Marines to do the right thing.  The book is so immersed in military culture that camouflage seems to seep from the pages.  As Mattis rose through the ranks, he began to experience the political side of warfare, diplomacy and foreign policy in D.C., and he became quite outspoken on some of the decisions (or lack of them) from the the several administrations he worked for (Bush, Obama, Trump).  But as a good soldier he followed orders and never made public his disdain, and only tactfully recites them now.  Although recent press reports infer that Mattis is slamming Donald Trump obliquely with his closing comments, the majority of the book is about honor, leadership, and teamwork as pillars of his (and the Marine Corps) philosophy.  At any rate, he doesn't have to, the leadership Mattis exemplified in this book, including his resignation as Secretary of Defense, clearly outshines the current commander-in-chief in character.  But then again, most everyone does.
It's available at your local public library or independent book store.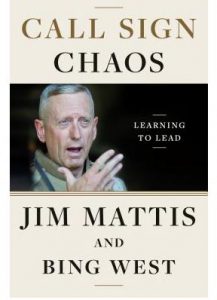 Weekend Book Report (9/8/19):   If you have followed WBR for any length of time, you can tell I read a lot of non-fiction, especially politics, philosophy and current events.  (I've never had an affinity for fiction, as reading something made up in someone else's head doesn't appeal – so go figure).  Of those books, two or three will deal with race relations and racism.  This week's read is impactful, and even as the author states, the title will get the dander up on some folks:   "White Fragility – Why It's So Hard For White People to Talk About Racism" (Beacon Press, 2019).  Robin Diangelo is a multicultural professor at Westfield State University in Massachusetts (the school was founded by educator Horace Mann).  In direct language, the author addresses the term – which commonly elicits an indignant, offended and often angry reaction from most white people – since conversations about racism is often associated with the evils of slavery, discrimination, hate, and violence during the civil rights movement (i.e., bad people), and the receiver is defending themselves because they have defined it that way.  She defuses that premise by explaining that racism is a "system",  not an "event", and that hundreds of years of social conditioning, media, economic and personal discrimination and domination by white culture has rendered most  white people either blind or in denial about the role that has been exerted over people of color.   As a workshop facilitator on race, Diangelo walks the reader through experiences, exercises and conversations on how to re-frame relationships and conversations on race (and admits to her own fallibility in conversations).  There's recommended reading at the end of the book, I would suggest a book on a earlier WBR by NFL player Michael Bennett's "Things That Make White People Uncomfortable."  This book will also make some readers uncomfortable, but it's a necessary step – and one that must be worked on every day, since it's not a "cure", but an ongoing process, and is instrumental in making societal change.   There's an old adage, "change doesn't come without pain", but Diangelo at least makes it understood in this direct, insightful and highly readable work.
It's available at your local public library or independent book store.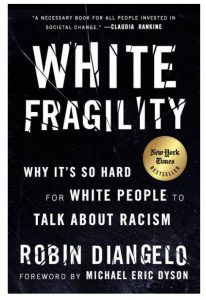 Weekend Book Report (9/2/19):   On occasion, my local library has some new releases that can't be found in book stores and are plucked off the shelf right away.  This past week was no exception; a fascinating historical work "Defying Hitler – The Germans Who Resisted Nazi Rule" (Penguin / Random House, 2019) landed in my library basket.  The two authors, Greg Lewis and Gordon Thomas, are well-known in the UK for their intelligence-gathering and deep historical research.   (Thomas died during their several years of writing in 2017, Lewis leaves a heartfelt tribute to his colleague in the afterword). The lengthy book, at nearly 500 pages, has all the riveting attention-grabbing of a spy novel, with stories of everyday German citizens who worked "the resistance" – finding ways of subterfuge, sabotage, propaganda and other underground works to undermine the brutal Nazi regime.  A "who's who" list is at the preface.  Some had to join from the "inside" as military officers or attaches, and acted as helpful informants for the Allies or were witnesses to the atrocities that were perpetrated against Jews, the infirm, and dissenters in general.  Many were tortured, jailed and lost their lives, even for simple disagreement   The book leaves several impressions to the reader, the first is that the Reich did not have a wave of automatic adherents and supporters, although there were many.   Second, many feared for their daily lives, feeling powerless to impose change and third, that a group of brave, genius and principled individuals did what they could to undermine a thoroughly brutal, hellish, totalitarian regime that committed unspeakable acts (and Lewis warns of parallel history today).   It leaves one with the urge, when seeing one of Trump's "fine people" strutting around with a Nazi flag and swastika in these times, to go punch them in the nose.
It's available at your local public library or independent book store.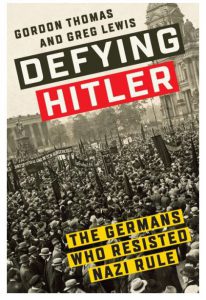 Weekend Book Report (8/24/19):  Cal Ripken, Jr. has been known as the "Ironman" of baseball, playing a record 2,632 straight games (exceeding Lou Gehrig by over 500 games).  What I didn't know was the activities in his post-baseball career; establishing the "Ripken baseball" program for youth as well as writing over a dozen books – half of them dedicated to young readers.  "Just Show Up" (HarperCollins, 2019) is a collaboration with James Dale, a baseball writer, and is an observation of values, ethics and human nature by the author, and can be read easily and enjoyably  by adolescent or adult.  Ripken talks about his upbringing (Dad was player, manager and mentor) and life in baseball, and bases axioms of life with baseball analogies and his experiences seamlessly.  "Success And Money Are Not The Same", "It's OK To Be Stubborn" (clarifying the difference between good stubborn on principle and bad stubborn on obstruction) and chapters on listening and living life by the "averages" (a great analogy from a baseball guy) are some of his examples.  It's a pleasant, if not deep, book and would make a great gift for any aspiring young person to demonstrate how simple goals can be achieved – by just showing up.
It's available at your local public library or independent book store.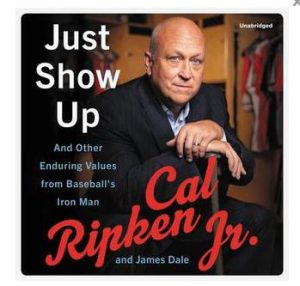 Weekend Book Report (8/22/19):   For a change of pace and some reflection during a rare stretch of two rainy summer days in a row, I picked up one of Mexican spiritualist Don Miguel Ruiz's latest book, "The Three Questions – How To Discover And Master The Power Within You" (HarperOne, 2018).  Ruiz, who draws upon ancient Toltec and neo-Shamanic traditions for his texts, is best known for his 1997 best-seller "The Four Agreements", as well as other works.  This book is short, Ruiz's words are gentle, as uses several analogies to help the reader get rid of the clutter, assumptions and angst they may have in their lives.  Using the example of "me" (i.e., the ego-driven concerns, anxieties and expectations of day to day living), Ruiz compares the mind as having a "government in your head", with an executive, legislative and judicial branch, all with certain conditions and judgements, which can be forgiving or unforgiving, autocratic or benevolent, depending on the issue.  He gives the reader insightful tools (in many cases, without overtly mentioning them) on how to work with those issues, which usually arise from asking the "three questions" – Who am I, What is real, and What is Love?   It's not as impactful as "Four Agreements", but Ruiz's style makes for a pleasant read and a opportunity for reflection.
It's available at your local public library or independent book store.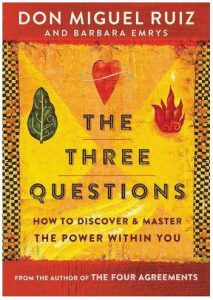 Weekend Book Report (8/18/19):   The CBS television program "60 Minutes" is the longest-running prime time news program ever; it's been on the air for over fifty years and has featured many premier journalists.  This week's read was from one of them;   Scott Pelley, who served as one of the program's correspondents as well as an evening news anchor and field reporter over his career at CBS, has penned a memoir – "Truth Worth Telling – A Reporter's Search For Meaning In The Stories Of Our Times" (Hanover Square Press, 2019).   His book is his first-hand collection of news stories – all from the front lines – that he has compiled and experienced as a journalist.  From being on site at 9/11, intense interviews with Bill Clinton and George Bush and other high-profile news items, Pelley prefaces his book with a philosophical framework, identifying characteristics of the principals that he covered (i.e., gallantry for the FDNY at 9/11, valor for a soldier in Iraq who performed a heroic act).  He ardently defends journalism as indispensable for freedom and democracy, and evades partisan politics in the process; he does have criticism for the first Iraq invasion where the press was pretty much repressed and censored, and laments the partisan wingnuts and clickbaits of the news industry as a detriment to it's integrity overall.  Some hair-raising encounters and danger are part and parcel of the work; Pelley, who memorializes CBS reporters who lost their lives in the field at the end of the book, went to Afghanistan and Iraq during both wars, but also had some odd chance encounters, like interviewing a U.S. soldier in the front lines in Iraq named Timothy McVeigh (who he would also interview in his jail cell after bombing the Federal building in Oklahoma City years later) and his baffling interview with a presidential candidate who was wholly clueless in political affairs and current events named Donald Trump.  Pelley's clear reporting style keeps the reader in rapt attention, and his book speaks well to his career, as well as to all those who enter the field of journalism.
It's available at your local public library or independent book store.